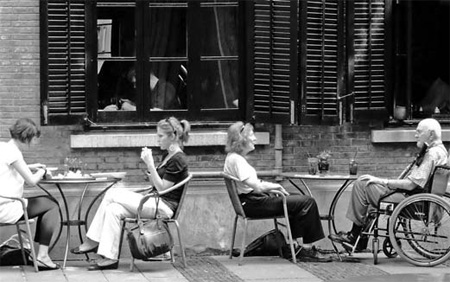 Expats discover it's no cakewalk to find housing at a reasonable cost in the Chinese mainland's most expensive city. Wang Ying and Shi Jing report
Relaxing at home on a sunny Sunday afternoon, Daidi Jouve leans against a pile of pillows on the tatami mat reading a novel by her favorite author and casting an occasional glance at her husband, Frederic, who is preparing dinner in the spacious open kitchen.
But domestic bliss didn't come easy to the Jouves in the Chinese mainland's most expensive city - Shanghai. The couple (Frederic is French and Daidi is Shanghainese) spent five years looking for a home that fits their requirements and at a price they could afford.
As per latest available figures, Shanghai played host to about 70,000 expatriates and their families by the end of 2009. The number is expected to swell in the coming years as Shanghai hastens its development as an international business and financial center.
As the Jouves' experience shows, it's not an easy task to find satisfactory accommodation in this cosmopolitan city, even if one has an adequate budget. Besides limited finances, most expats search for places that are located close to their workplace and have accessible facilities, besides suiting their cultural backgrounds.
Despite the building boom in recent years, property experts predict that the demand for so-called Grade 1 residential premises will continue to outstrip supply at least for the next five years.
Meanwhile, the price of luxury apartments in prime locations has surged to 34,373 yuan ($5,000) per sq m, up 13.8 percent from a year ago. The average rental of apartments in this market segment has also jumped to an average 1.2-1.5 yuan per sq m a month, almost touching the peak in early 2008.
"The luxury residential market has bottomed out, especially as many landlords are putting up their apartments for sale rather than for lease," says Michael Klibaner, head of research with Jones Lang LaSalle (JLL) Shanghai. "This has further reduced the supply of leased apartments."
There is, of course, no shortage of opulent villas in such exclusive districts as Sheshan to cater to the pricey taste of those expatriates with pre-crisis Wall Street-sized compensations. The other foreigners in Shanghai must learn to make compromises when it comes to accommodation.
In the quest for their dream home, the Jouves had to tread beyond the confines of the expatriate enclaves in various parts of the city, where properties for sale are limited and the rentals of those owned by large developers are at levels that only those with fat housing subsidies can afford.
"We aren't really that picky," says Daidi, a product designer who created her own brand, Oshadai. "When we started looking for a home to buy, we set our bottom line as to the layout and quality," she adds.
Although Daidi was born and raised in Shanghai, she still had to rely on the help of property agents in her house search. It was a frustrating experience for her because "whenever they (the agents) see a foreign face, they immediately assume you are only interested in the apartments in the communities favored by expatriates", Daidi recalls.
She followed her agent to a luxury development close to Xintiandi, one of the hottest entertainment districts in Shanghai. But the lofty entrance of the building and the opulent dcor of the individual apartments didn't impress Daidi.
They are obviously designed for families with domestic help. "The kitchen and utility areas are tucked away at the back of the apartment," Daidi says. "That kind of layout simply didn't suit our lifestyle."
Fredric, an IT engineer, agrees. "I like to cook and want it to be an occasion for the family," he says.
Possibilities multiplied once they started exploring other parts of the city.
Daidi's quest took her to the old districts where many ancient terrace houses still stand. Like many expatriates new to town, she fell in love at first sight with these quaint old buildings, especially the ones built by the French and English in the 1930s. But her heart sank when she was shown an apartment in one of those buildings.
"We love the quaint old houses, but they are mostly in bad condition and are located in pretty rundown districts," she says. After looking at a few, "we found that refitting the interior to modern standards was too much trouble", she says. "Some of the houses didn't even have toilets."
She quickly narrowed the search to relatively new apartments in the non-expatriate districts and found the one in which they now live.
"It has a 30-sq-m kitchen which has been converted into an open cooking area," she says. The total cost of the remodeling came to 1 million yuan. Fredric adds that he likes the apartment now except, perhaps, that he just can't get used to having the toilet in the same room as the bathtub.
Of course, not all expatriates share the Jouves' preferences. Elizabeth Winslow, for instance, is happy to have found an apartment in the luxury complex near Xintiandi that the Jouves shunned. Calling herself a "professional expat housewife", Winslow, from Australia, says that she enjoys the large living space, 200 sq m, and the built-in amenities of the apartment. The en-suite bathroom of the master bedroom has an oversized spa tub that is large enough to accommodate a family of four. The monthly rent? A cool 50,000 yuan.
Winslow says she picked this location over some others that are actually closer to her husband's office because she "really, really loves the neighborhood", populated by fancy restaurants, swanky bars, gourmet delis and up-market boutiques. If it strikes her fancy to do some bargain hunting in the wholesale clothing market on Qipo Road, her husband's chauffeured limo is always ready to take her there.
She rented the apartment at a "bargain" price in 2008 when the property market was rocked by the global financial crisis. Since then, rentals have been escalating in tandem with property prices.
The high cost of accommodation in Shanghai came as a shock even to Toshio Raku, World Financial Center's operation director, who was used to Tokyo's crazy prices.
As a manager of one of the world's tallest buildings in Lujiazui, Shanghai's new financial district, he is on call almost round-the-clock. For that reason, he needed to find an apartment close to the building in an area known for exorbitant rents. He found a passable place at 8,000 yuan a month, which was bargained down to 7,500 yuan. "The housing price in Shanghai is way above my expectations," he says.
Krista Pederson, a marketing manager for investment company William Global Partners, was promised a housing budget of 4,500 yuan a month by her employer before her relocation to Shanghai. When she arrived in the fall of 2007, she discovered to her dismay that she couldn't find anything she considered decent living for that kind of money.
Pederson grew up in Taxes where living space was never much of an issue. In Shanghai, she must make do with a 98-sq-m, 2-bedroom apartment in an old building with dubious plumbing. "I haven't been living in any place this confined since my days in college," she says.
Source: